Measuring for a new shade is fairly straightforward.
A. Measure Top Diameter
B. Measure Bottom Diameter
C. Measure Vertical Slant
D. Measure Vertical Height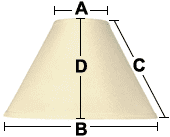 If you have a full fabric (soft on the inside and outside) shade, we can recover your frame. This is particularly valuable if you have an odd shaped or uniquely sized shade. Our custom recovers are hand sewn and meticulously crafted. We would be happy to send you a quote on recovering your shade if you can provide us with some information. Please answer the following questions and attach a picture if you have one. We will get back to you promptly with a quote. We can then discuss fabrics and trims. If you prefer, please call us at 716-896-7393 and we can discuss your lampshade needs.